It's time to fire your landlord!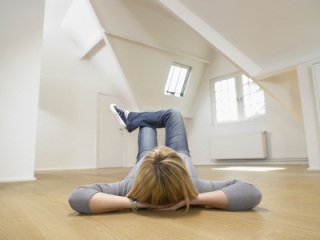 A Home of Your Own
Buying a house is still an incredibly smart decision – both financially and to help you control your own destiny. Rents go up every year while a sound mortgage will remain fixed for 30-years.
And then there's the freedom to paint the walls any color you like, to own a pet, and plant a garden. Why would I want to help a landlord buy the home I live in? Maybe he knows something I don't?
Your Goals
Whether you've already found the perfect home or are just beginning to think about buying, now's the time to talk with a professional you can trust. Let's chat so I can understand your unique situation and guide you to the right financing for you.
Know Where You Stand
Let's run the numbers now so you know the details from your credit report and can shop with confidence.
Start Early
No Obligation
Have a pre-qual letter to submit with any offer
No-Surprise Closings
We understand this isn't just a loan – it's a major life event! You need a lender who's as committed to a smooth closing as you are.
There will be lots of forms, appraisals, etc – but don't worry, that's why you'll have our entire team helping you get to closing.

Questions to Ask Your Loan Originator
Do you have in-house decision-makers to approve my loan?
Are you able to check rates for me with multiple banks?
Do you offer Conventional, VA, USDA, and FHA loans?
Are you licensed through NMLS?
Will you be at my closing?
Buying a new home is exciting but it can also be stressful and complicated—it doesn't need to be. The key to eliminating the anxiety is having a team of professionals helping you along the way.
Where do you start? In order to make a wise decision you will want to know what finances are available before you fall in love with a house. At Integrity Home Mortgages I have many loan programs to choose from. I'll use this advantage to get you pre-approved with a mortgage that fits your specific goals and needs.
First I'll gather some basic information about you, the type of home you're looking for, your credit, and your employment. I'll then analyze this information and pre-qualify you for a mortgage up to a set amount and tell you which loan programs you're likely to qualify for. This pre-qualification process costs you nothing but gives valuable information so that you are able to begin shopping with your real estate agent. Need an agent of your own? Ask me and I'll put you in touch with some tremendous professionals you can trust. Remember, your realtor and I are your team of experts; put us to good use.
The dollar figure I'll quote you will tell you how large the loan is that you can qualify for and the equivalent monthly payments. Only you can determine how much you can afford – by looking at your monthly spending habits. Keep in mind, any down payment you've saved will give you spending power beyond the mortgage that you qualify for. With the pre-qualification letter you can begin to look for a new home with confidence.
When you find a home, your realtor will assist you in negotiating an offer with the best price and terms. You may want to require the seller to pay some of your closing costs or a point towards lowering your interest rate. Give me a call as soon as the offer is accepted so that we can lock in your rate and get geared up for closing. There will be lots of forms, appraisals, etc but don't worry about all of those details! I'll coordinate things from here, keeping you informed with every step that leads us to the closing table.
Your next decision will be who to invite to your first party at your NEW home.